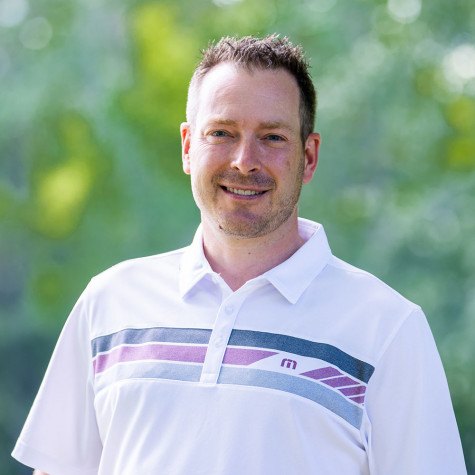 Shaun PierceyHead Professional
As a golf instructor, Shaun enjoys working with golfers of all skill levels. He has taught lessons for20 years and has developed a simple, easy to understand approach to teaching lessons. Shaun believes that while gaining knowledge is important, golfers really tend to improve when they engage in consistent and focused practice. He also places major emphasis on the mental game and course management. Shaun's goal is to give his students the knowledge and tools they need to become better players well after their final lesson.
---
Testimonials
Mona Dupuis, Alberta, Canada (Handicap –20)
I was pretty nervous about taking lessons for the first time after being a latent golfer for 5+ years. Shaun was very good at starting from the basics, building the foundation of a good swing and helping me progress. He's helped me develop a routine at address, a routine for driving range warm-up and that has increased my comfort level and confidence tremendously. My drives are longer and straighter and if they aren't, I now know why and what needs correction. We did a chipping and putting lesson as well. I've learnt so much in 3 lessons with Shaun and can't wait to get back at it this spring. He's very easy-going, professional and encouraging. The entire team at The Ranch is so friendly and absolutely fantastic.
Lawrence J Spencer, Alberta, Canada (Handicap 9)
The great thing about Shaun is that he actually knows what he is talking about. His message is simple, intelligent, and genuine. By taking regular lessons with Shaun my handicap went from a 16 to a 9 this summer. He made golf fun for me again.